The latest Housing Delivery Test numbers have recently been released by the Government. These have been processed into fancy graphics by various companies in the property sector. Strutt and Parker's graphic above shows that Hart has built at more than twice the required rate in the past three years. This is more than any other part of Hampshire.
This is confirmed by the figures in the Government spreadsheet. In this document, we can compare Hart with neighbouring Rushmoor and Surrey Heath.
Hart is delivering more housing than both of them and far more than required. Further analysis of this sheet shows Hart is 23rd out of the 294 planning authorities. This puts Hart in the top decile of housing delivery compared to requirement.
Housing Delivery Test – Developer View
Developers are disappointed by this development. Planning Insight has produced a report analysing the performance of  Planning Authorities across Hampshire. They are less than pleased about Hart's housing delivery and 10.2 year land supply.
Planning Insight do not expect Hart to be in the "Presumption In Favour of Sustainable Development" anytime soon. In fact, they assign a cloud next to Hart's name.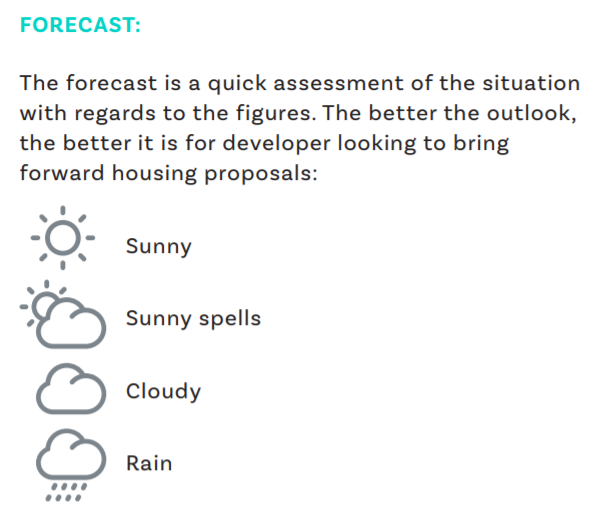 This means that it does not look good for developers putting forward speculative housing proposals in Hart.
It is very puzzling that until very recently, Hart Council was pushing the Shapley Heath Garden Community. They proposed to deliver this community in addition to the Local Plan Requirements. Why on earth would we want to deliver even more houses when we're already delivering at more than twice the required rate. Over £500K down the drain since 2018/19 on a totally unnecessary project.