Shapley Heath Garden Village is a proposal to build up to 10,000 new houses in Winchfield and Hook parishes. If built, it would effectively create a single conurbation joining Fleet, Hartley Wintney and Hook. We have termed this abomination Hartley Winchook. It would virtually obliterate Winchfield as we know it. It is worth noting that earlier very similar proposals would result in around 1,850 houses being built in Hook parish.
Below is a map showing how the proposal fits into the local area.
The new town would start ~650m west of Edenbrook in Fleet. It would extend west to the Crooked Billet in Hook and be bounded to the north by the A30 & M3 near to St Mary's Park in Hartley Wintney to the north. It stretches south to the Basingstoke Canal SSSI.
This new town was proposed as Policy SS3 in the Hart Local Plan. It was rejected by the Inspector on the grounds that it wasn't necessary. Even Hart's bid for funding said the Garden Community wasn't required and would be delivered in addition to the Local Plan requirement.
Hart Council's bid to the Government for funding to support this proposal included a housing trajectory.
Starting in 2023, over the course of the Local Plan period up to 2032, the Garden Village would result in 2,440 unnecessary houses being built.
When completely built out to up to 10,000 houses it would be 5 times the size of Elvetham Heath, ~4 times the size of Hartley Wintney,  around 3 times the size of Hook, and nearly as many houses as Fleet parish.
This is the first of our posts showing:
What is Shapley Heath, explaining its location and scale?
Unachievable sustainable transport goals here
An outline of an alternative approach to long term planning in Hart
The master page containing all of these posts can be found here. A link is also provided in the navigation at the top of the page.  Please do keep an eye out for further updates and share them with your friends.
The Shapley Heath Garden Village Vision Document can be downloaded below.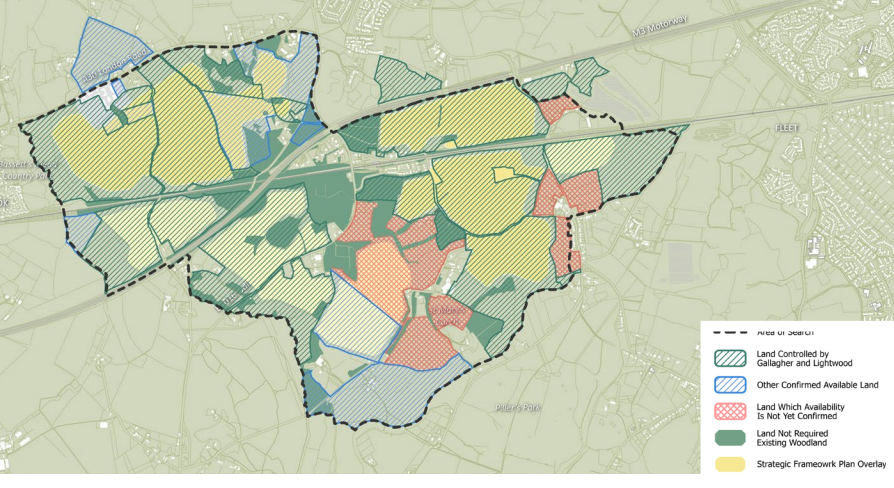 Shapley Heath Garden Village Vision Document