We have gone through the looking glass as the Hart Housing target has been increased to over 10,000.
Hart has now published the document that will be discussed at Cabinet on Thursday 9 February. The main headlines are as follows:
The Hart housing target has been increased to 10,077, with shall we say, questionable justification
The proposed housing allocations are outlined, including a new settlement at Murrell Green
Hart housing target increased
The housing target has been increased to 10,077 as per the table below. This represents a 125% uplift on the 2014-based demographic projections.
| Item | Item total | Total |
| --- | --- | --- |
| Housing demand as per 2016 SHMA | | 8,022 |
| Flexibility | | 2,055 |
| Affordable housing rental uplift | 520 | |
| Rural exception site delivery | 50 | |
| Starter homes/shared ownership | 285 | |
| Market housing | 1,200 | |
| Total "Need" | | 10,077 |
| | | |
| Completions 2011-2016 | | (1,830) |
| Commitments (to 31 Jan 2017) | | (3,385) |
| Windfalls | | (297) |
| | | |
| Remaining to meet need | | 4,565 |
This is a very questionable increase. The SHMA already factors in a 53% uplift on the 'natural' demographic projections, which would give a total requirement of 5,334 dwellings. But if they had used the more up to date 2014-based projections, the start point would fall to 4,473. If we were to use the raw 2014-based figures as our total housing target, we would have already built or permitted the total requirement.
Second, the justification to increase the total to 10,077 is to build 855 extra affordable/starter homes. But the overall increase is set at 2,055 because they don't expect to build more than 40% affordable properties. This is simply absurd.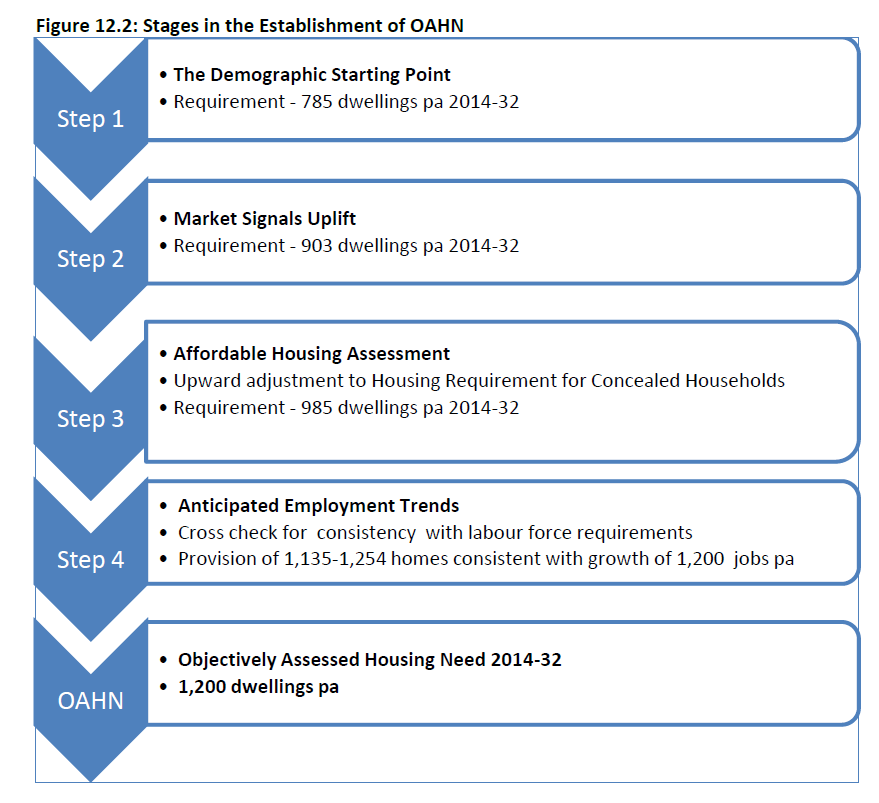 Third, the SHMA has already made allowance for extra affordable homes (as can be seen above), and then this has already been uplifted for extra so-called jobs growth, which themselves will deliver more affordable homes.  Hart Council seems to be adding uplift on top of uplift in a quite random and arbitrary way. We have already analysed the SHMA here and here.
Fourth, the paper itself says there is no well proven evidence-based formula to uplift the housing target. There is nothing in National Planning Policy Framework (NPPF) that requires the target to be uplifted in a mechanistic way. Nor that the requirements have to be met in full.
In short, the proposed uplift is double counting uplifts that have already been made that we are under no obligation to meet anyway.
If we were to build at this inflated rate, then this would be carried forward and compounded in future demograpgic projections.
Housing Allocations
The paper sets out the proposed allocations to meet this fictitious target, including 1,800 new houses at Murrell Green.
No mention is made of Bramshill or Grove Farm (Netherhouse Copse), which are currently under consideration by the COuncil. Indeed we understand that the developers have appealed the Grove Farm application on the grounds of non-determination. Hart were already late in considering the application in December and cancelled the January meeting. Grove Farm is not on the agenda for the February meeting. It is difficult to see how they can defend the appeal.
Conclusions
Hart District Council is in a very perilous position. If it doesn't get a Local Plan in place soon, it will lose around £2m per year in New Homes Bonus.
So everyone has a strong incentive to get a Local Plan. But by increasing the target to over 10,000 houses, everyone loses for decades to come.
It is difficult to work out the best way forwards. We could either wait until the Regulation 18 Consultation comes out in March and hope that we can influence matters for a better outcome. Alternatively, we can fight now for radical change of both the plan and the people running the process.