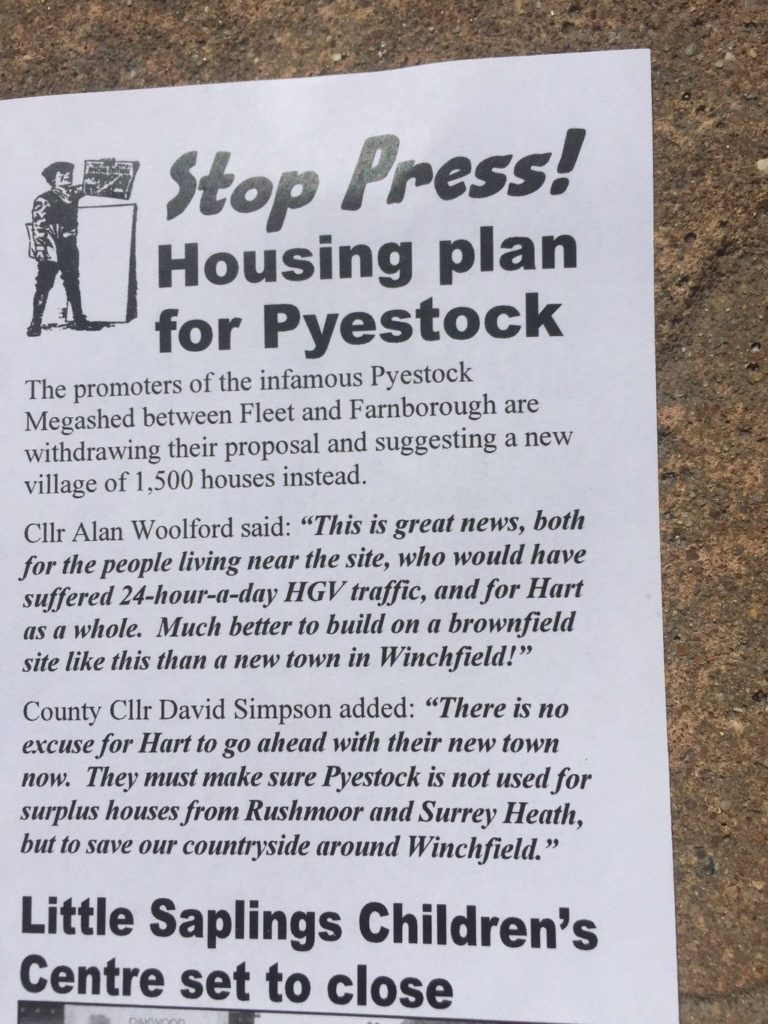 The local Liberal Democrats have clarified their position on the proposed redevelopment of the Hartland Park (Pyestock) brownfield site in time for the Hart Local Elections 2016. Their new leaflet, reproduced above, welcomes the proposal to build 1,500 homes on the site.
However, correspondence with a senior local Liberal Democrat reveals that, like the local Conservatives, the Lib Dems are split on the issue of Winchfield new town:
Like the Cons, Lib Dems are split. Alan and I are opposed in principle to Winchfield.

Lib Dem policy starts with everyone deserves a place to live. Then that brownfield should always take precedence over Greenfield development. If there is insufficient brownfield then it comes down to which Greenfield? That in turn comes down to what developers put forward i.e. Hart cannot say they want to build on a field if a developer does not propose it.

Winchfield has always been wrong, in my opinion, as a simple look at a road map will tell anyone. The infrastructure is not there and developers will not put it in.
We have updated our summary page, updating the position of Alan Woolford, standing in the Hart District Local Elections in the Hartley Wintney ward, but we don't know the position of the other Lib Dem candidates yet.