Winchfield Flooding returned on 15 January 2020 with #StormBrendan.
It does appear as though these one in 30 year events are turning into 1 in 30 day events. The video above is of flooding on Taplins Farm Lane.
The Winchfield flooding also affected Bagwell Lane, which relatively recently had new drainage installed.  It doesn't seem to be working.
Of course this is not the first time it has flooded on Taplins Farm Lane. We have recorded flood events on 20 December 2019,  4 February 2019,  in April 2018 and three times in 2016 alone. Evidence documenting the 2016 flood events can be found here (4 Jan) , here (7 Jan), here (9 March on Station Road) and here (28 March due to #StormKatie).
It seems that the actual weather is stubbornly refusing to comply with the flood assessment carried out for Hart Council as part of its evidence base for the Local Plan. The sustainability assessment claimed:
There was some evidence of wet ground at the far east of SHL183, but "no other obvious evidence of current or past flooding".

The detailed assessment also said there's only a one in 30 year chance of surface water flooding.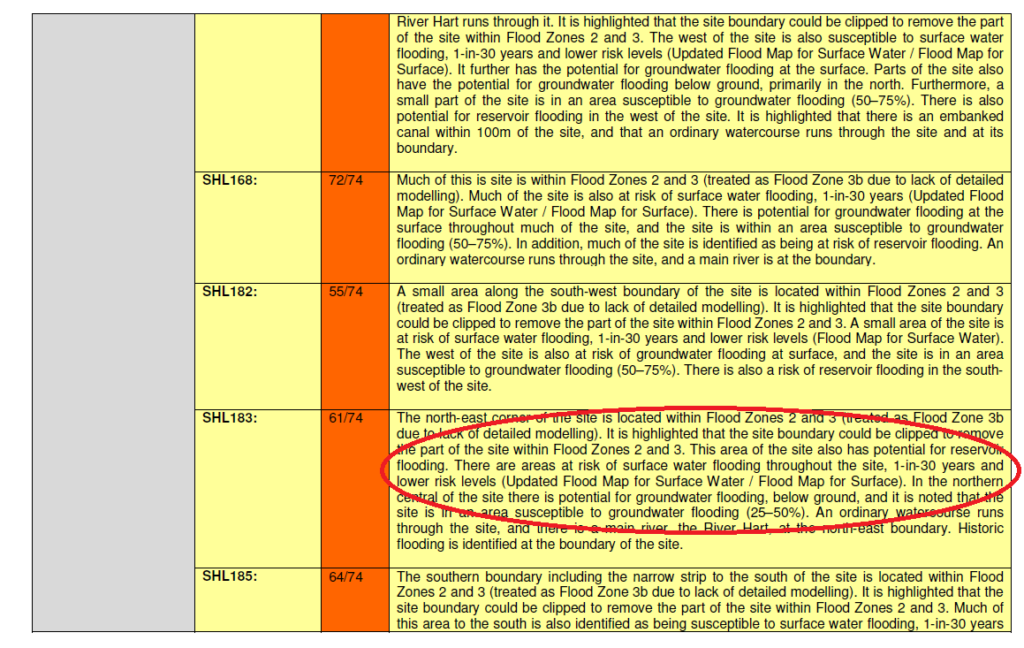 Taplins Farm Lane and Bagwell Lane are in the middle of the proposed Shapley Heath development. The proposal to spend £150-650K of taxpayer funds does not include any work to assess or mitigate flood risk.
Let us hope for a more sensible approach prevails. We are working on a revision to the Hart Local Plan. These will mean we avoid a new settlement anywhere in Hart, and won't need large urban extensions either to at least 2041. Plus we get improved facilities in our urban centres.