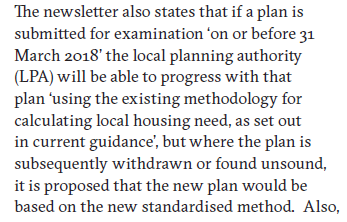 The Government has threatened councils with a new housing need methodology if they don't submit a Local Plan by March 2018. The threat is contained in a Government newsletter that has been reported upon by Lichfields the planning consultancy. The report can be found here.
It is of course unclear what this new methodology might entail. However, the Government is desperate to increase the level of housebuilding, so it is likely this new methodology will further increase Hart's target.
The new deadline of 31 March 2018 gives a critical backstop date for Hart to submit its Local Plan for inspection. The target date for submission was vaguely described as Spring 2018 in the latest consultation. However, as we know Hart Council has missed every deadline it has set itself. So, it remains to be seen if the new administration can get a new plan together on time, especially as Hart has already effectively turned down an application on one of its preferred sites.