Hart District Council has proposed a new settlement at Murrell Green as part of its spatial strategy for the Hart Local Plan. This was debated at a meeting of the Local Plan Steering Group last night. The proposal is expected to be agreed at a special Cabinet Meeting to be held on 9 February at 8pm.
The new settlement contains a site for a proposed new secondary school, outlined in yellow in the image above.
We are delighted that the new settlement at Winchfield will not form part of Hart's strategy.
However, we are disappointed at seeing Murrell Green being put forward as a solution.
[Update] Concerns have been raised about the viability of the proposal [/Update]
Brownfield Capacity
At the council meeting last week, the Leader admitted that Hart now estimate the brownfield capacity at 2,126 dwellings. This excludes the former police college at Bramshill.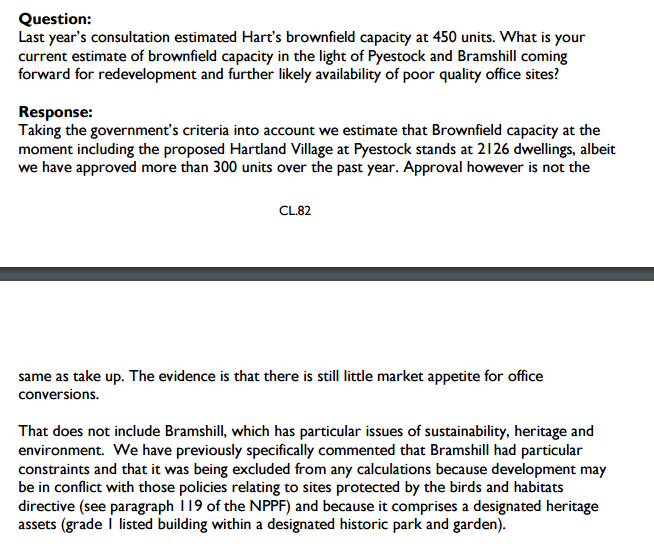 A realistic assessment of the capacity of Bramshill is around 250 units, bringing the total up to 2,376. However, sadly, Moulsham Lane has been given the go ahead (150 units). This would mean we would have capacity to meet even the over-stated remaining requirement of the old Strategic Housing Market Assessment (SHMA) on brownfield sites alone.
New SHMA overstates the true housing requirement
However, it now appears as though the council has caved in to demands to build even more houses that we don't need. They have agreed to an increase in our housing allocation to 8,022. On a like for like basis, this leaves us short by 462 units.
This shortfall might well be met by the Netherhouse Copse application (436), which we now understand has been appealed by the developers on the grounds of non-determination. So even with the new SHMA, there is no need for a new settlement at Murrell Green.
At council last week, the leader refused to answer our questions about the reasonableness of building houses to increase inward migration to the district, when many of those people would work outside the district and thus put pressure on infrastructure.

The assumptions I put forward are all in the new SHMA, see here.
We need to challenge this new SHMA and resultant spatial strategy strongly. This will ensure we build the right number and right type of houses to meet local needs, rather than needlessly concrete over our precious green fields.
The full minutes of the council meeting can be found here.