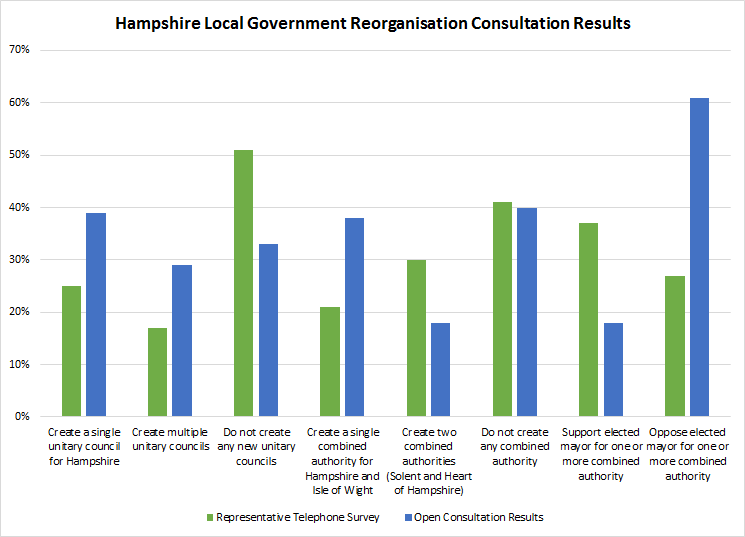 The results of the Hampshire Local Government consultation have been published. The consultation was to seek our views on how Hampshire might meet its budget challenges. The results are inconclusive, or as Hampshire County Council (HCC) likes to say, 'nuanced'.
The Hampshire Local Government consultation took three forms. First, there was the open consultation that we talked about here with 3,354 respondents. Second, there was a telephone survey of a representative sample of 1,504 Hampshire residents. Finally, HCC carried out three 'deliberative workshops' with 90 Hampshire residents.
HCC have published a detailed report here. A paper to be discussed at Cabinet on 14 November is published here. The results of the consultations are shown in the graphic above.
Analysis
Interestingly, in the open consultation, there was quite strong support (38%) for a single combined authority, but very strong opposition to an elected mayor (61%). However, Central Government insist that combined authorities cannot go ahead without an elected mayor. There was slightly more support (39%) for a single unitary authority across Hampshire. There was quite strong opposition (33%) to any new unitary authority and even stronger opposition to any new combined authority (40%).
Overall, we are in a mess, because the most favoured option of maintaining the status quo is not an option because of budget pressures. It is clear there is no consensus on the way forward.