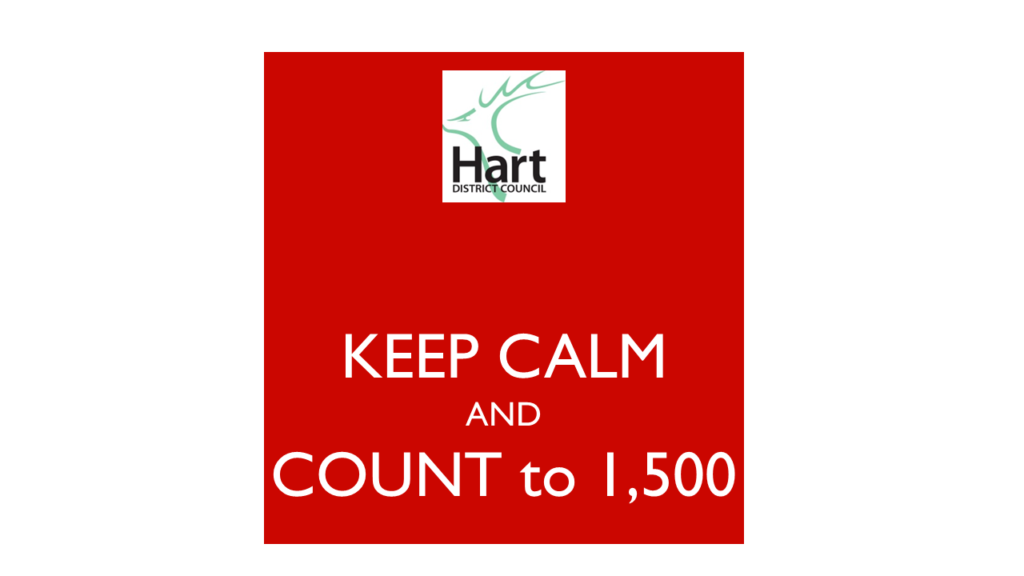 After yesterday's apparently good news from Hart Council saying that Hart would have to build 1,500 fewer homes, We Heart Hart sought some clarification on how the 1,500 fewer homes had been calculated. Sadly, the answer we received sheds no light at all on the problem and only adds to the confusion. In fact it does appear as though the claimed 1,500 reduction might be entirely made up. It seems that only one day after claiming a 1,500 reduction on housing numbers it is now "inappropriate to speculate about where we stand with regard to housing numbers".
We asked:
I have just seen the press release about Hart being asked to build 1,500 fewer homes than previously thought.  However, the release is a bit ambiguous as to what the baseline is.

Going back to the previous SHMA, the housing requirement was 7,534.  Is the 1,500 reduction from this baseline, giving a new requirement of 6,034?

Or is the baseline 7,534 plus the potential 1,600-1,800 additional requirement from Rushmoor's unmet need? If so, then the 1,500 reduction is in fact a net increase on the 7,534 figure.

Can you explain please?  Also, does this mean that the new SHMA is ready to be published, and can I have a copy?
The response we received is as follows (our emphasis):
In light of the unexpected good news from Rushmoor we are reworking all the figures. It now removes any immediate threat that Hart may have to take up to 3,000 overspill homes from either Rushmoor or Surrey Heath.

2014 SHMA is out of date and in our view analysis of the figures is not helpful. Our Planning Officers are concentrating their time on dealing with the nearly but not quite finished new one. In this regard, the new 2016 SHMA is close to sign off but the consultant is doing a last adjustment to reflect what is currently an informal agreement between the respective local authority officers over the approach to employment uplift. It will then require formal sign off at a Duty to Cooperate meeting between the lead councillors of all three Housing Market Area partners. At that point a decision will be have to be made by the three authorities to either publish it straight away or to await the forthcoming Hart Local Plan consultation and release it as part of the draft Local Plan evidence base so that it is not used out of context with its interpretation.

In the meantime, we just have received notification from the M3LEP that it will support our proposed purchase of Bramshott Farm to create a SANG.  Whilst it has no immediate effect it does allow the Planners to revisit the Brownfield Land Register to see if the purchase of the land allows us to include in our Local Plan sites currently in the Register but otherwise held back for lack of SANG reasons only.

At this stage therefore, it would not be appropriate to speculate about where we now stand with regard to housing numbers but I can assure you that the information will be published at the right time and that you will be able to comment on it though the proper consultation channels.