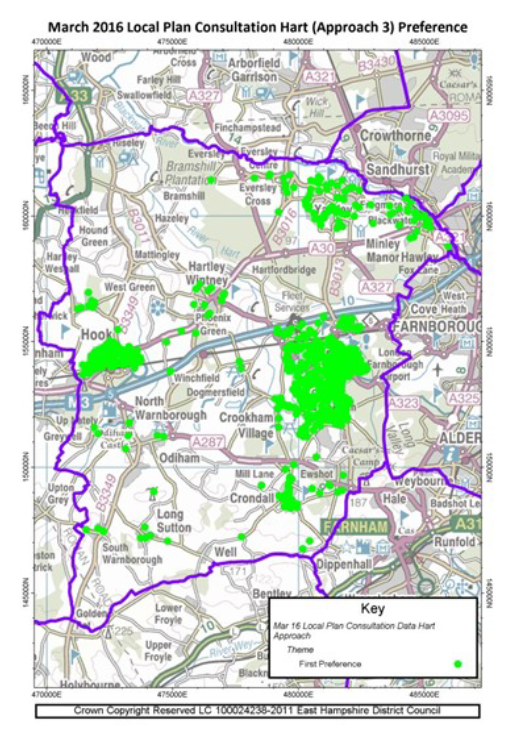 Hart Council have published the results of the recent Refined Housing Options consultation.  The summary of the results can be found here, and a geographic analysis of the results of questions 4 and 5 can be found here.
There was strong first preference support for a new town at Winchfield, as can be seen in the table below:

However, there was strong second preference support for the dispersal and urban extension options. The geo-analysis of the responses to Approach 3 are shown in the image at the top of the page, where it is clear there was very strong support for a new town in Winchfield from Hook and Fleet. This is analogous to two wolves and a lamb getting together to vote on what to have for lunch, as there are clearly fewer people in Winchfield to vote against the new town proposal. However, there was clearly very strong opposition to the new town coming from Hartley Wintney.

There was a very mixed bag of opinion on how to combine the options.
As we have said before, these results are largely irrelevant now that the Pyestock (aka Hartland Village) brownfield site has come forward with capacity for around 1,500 homes. Hart Council have said that brownfield development will be the preferred strategy over any green field development. Not only that, the Strategic Housing Market Assessment (SHMA) will be revised soon and we hope the overall numbers will be revised downwards. Although we must be vigilant, because at least three developers are arguing that our housing target should be revised upwards by a very significant amount – more on that soon.
Hart Council are playing down the results, saying:
…the outcome of the Refined Housing Options Consultation should not be seen as determining which strategy the Council should follow to deliver its need to deliver new homes. The Options are still being tested against the evidence base which will include a refreshed SHMA, unmet need in neighbour districts, a sustainability appraisal, transport assessment, water cycle study, Habitats Regulation Assessment, and Adams Hendry site assessment report that will also help inform suitability of sites. It will be this information, when assessed as a whole, that will be used to assess which is the appropriate strategy to follow.