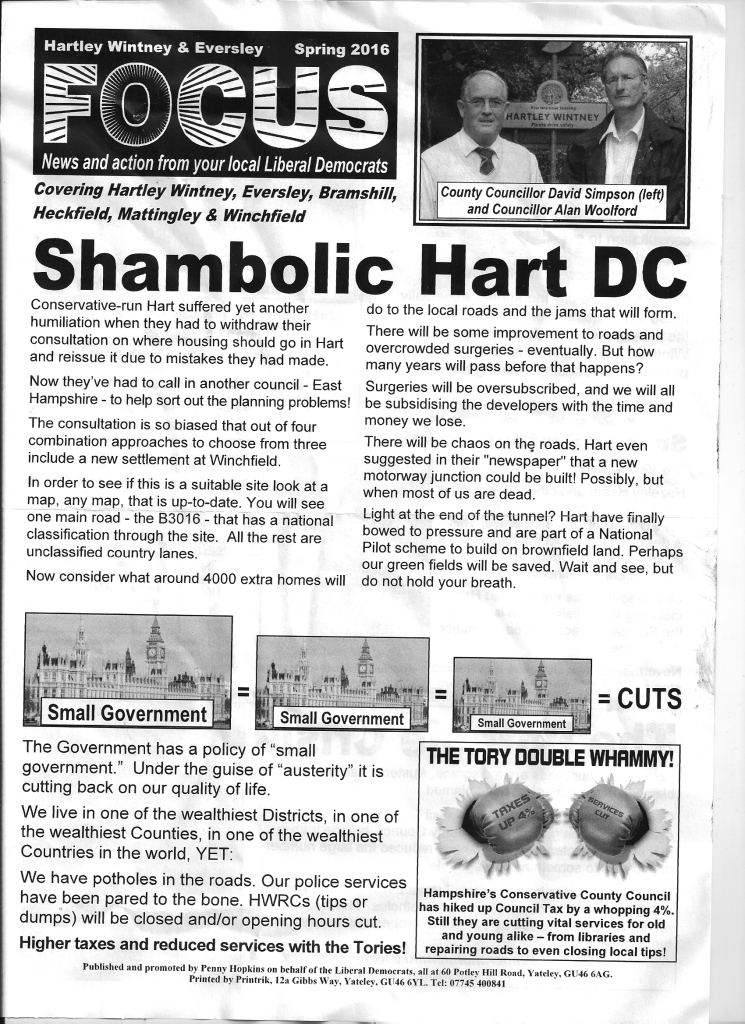 The local Liberal Democrats have published a newsletter for Hartley Wintney and Eversley (also covering Bramshill, Heckfield, Mattingley and Winchfield) strongly condemning the idea of a new town at Winchfield.  A full image of the newsletter can be found here. This is an important issue for the Hart Local Elections 2016.
They are silent on their position on the new brownfield site at Pyestock (aka Hartland Park).  It isn't clear whether this is a unified position of all Lib Dems across the district, or just the position of those standing in Hartley Wintney ward. In particular, it isn't clear whether this represents a reversal in the position of those Lib Dems who voted in favour of the new town in November 2014.
We have contacted the NE Hants Lib Dems to ask for a full position of the current candidates on both the new town and Pyestock, but have yet to receive a reply.  Nevertheless, we have updated our summary page to update the position of the Hartley Wintney candidate. We will update the other candidates once we hear from the NE Hants Lib Dems or if anyone sends us leaflets from other wards outlining the Lib Dem position.
[Update] The Lib Dems have issued a leaflet, supporting Pyestock [/Update]